Since we first developed and launched the concept of an absorbent blanket for container shipments in 2012, the popularity of the Vdry Blanket has continued to grow.
It's been an exciting journey allowing us to team up with customers around the world. From automobile manufacturers in Scandinavia to coffee shippers in South America, the Vdry Blanket has delivered real-life benefits across a variety of high-risk industries.
The wide range of markets that we work with means that we have a wealth of information to improve the Vdry Blanket. In other words, the lessons we learn working with West African cocoa exporters directly impact the Vdry Blanket that is used by shippers in North America and Europe.
The Vdry Blanket is always evolving, with improved features constantly added. Let's take a look at some of the standout characteristics that make the latest model of Vdry Blanket the superior absorbent blanket on the market.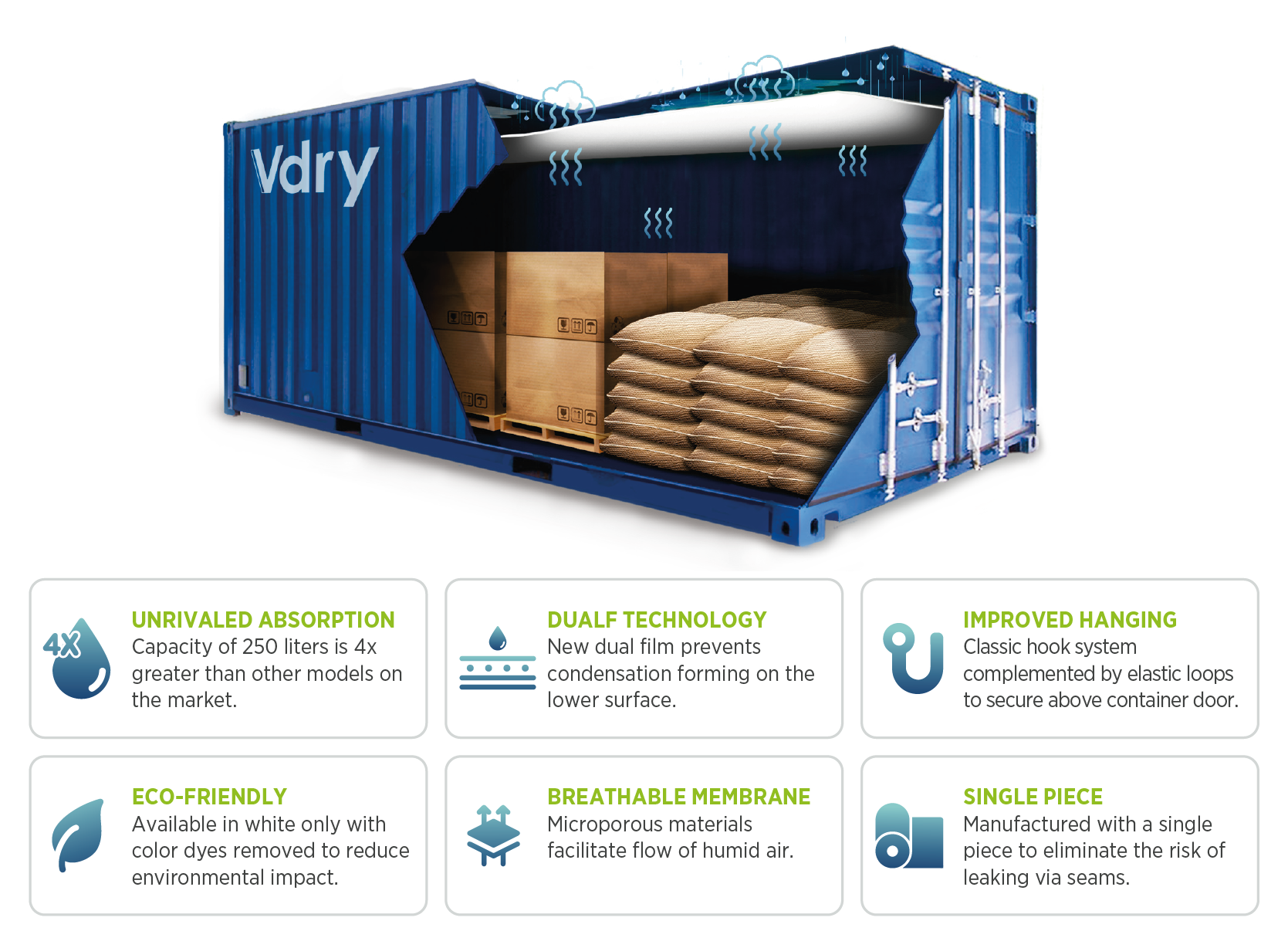 More Environmentally Friendly
Before we dive into its superior protection, let's first discuss what makes the Vdry Blanket a more environmentally friendly option.
Since 2019 we have added a white version of the Vdry Blanket to complement the standard green version. This means that color dyes are removed to reduce the environmental impact.
This campaign matches our other environmental initiatives, such as planting native trees.
Increased Absorption Capacity
Whatever solution you pick to protect cargo against shipping container condensation, it's always important to remember that absorption is king.
This is why we continue to work on our super-absorbent gel mix.
The Vdry Blanket absorbs a greater volume of condensation than before, making it the superior model on the market.
As with many of the key characteristics, this unrivaled absorption is tested for veracity by independent organizations.
New Multi-layered Technology
Working alongside shippers from all four corners of the globe gives us invaluable insights to continuously improve the Vdry Blanket.
This feedback led us to our latest innovation – the Dualf film, a new tailor-designed membrane that is registered to EPG Industries.
Where other models are manufactured with a single layer of material that combines breathable and leakproof qualities, the Dualf film enhances these features with absorbent characteristics.
This is essential in giving invaluable protection in high-risk shipments in which condensation may form on the surface of Vdry Blanket. In these scenarios the Dualf film will absorb the drops of condensation.
This means that if condensation forms on the Vdry Blanket due to high-risk risk factors, such as long transit times, this will be absorbed by the Dualf film, minimizing
Single Piece Design
The Vdry Blanket  is manufactured with a single piece of material. This means that there are no seams or stitching running through the Vdry Blanket.
Why is this important?
Other models on the market are manufactured with two or three pieces that are sewn together, which results in an increased risk of leaking and cargo damage.