The Sweet Spot Between Innovation and Evolution
The Vdry Blanket is an embodiment of our commitment to work alongside customers to develop solutions to overcome their everyday shipping challenges.
This ultra-absorbent blanket acts as an impermeable barrier between your goods and the condensation on the container ceiling.
The high-capacity of this absorbent blanket is complemented by precision design enhancements that eliminate leaking and improve ease of use.
The Vdry Blanket is the pinnacle in protection against container rain, ensuring goods remain dry even in the most high risk of voyages.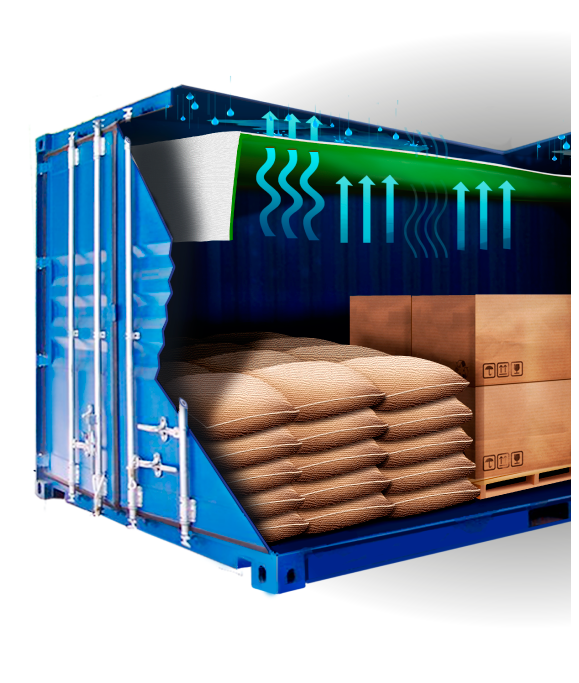 PATENTED CLUSTER DESIGN
Absorbed moisture stays locked in place thanks to a unique cluster design.

EXTRA COVER
Ultra-resistant materials minimize risk of tearing while design enhancements mean greater coverage at the back and front of the container.

CUSTOMIZED HANGING
The proven click-on-top hooks are enhanced with a bespoke rope system to improve hanging in the container.

PEERLESS ABSORPTION
State-of-the-art gel recipe absorbs unrivaled quantities of condensation.

LEAKPROOF DUAL-FILM
High-capacity gel formula is complemented by precision stitching to prevent leaking.

BREATHTAKING BREATHABILITY
The latest in micro-porous technology means a greater quantity of air flows through the membranes.
ABSORPTION CAPACITY OF MORE THAN 280 LITERS IN A 40′ CONTAINER. Certification for safe transport of chemical goods